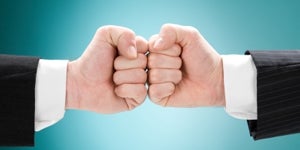 In
an interview with the New York Times, Richards talked about some of the things he does to elevate performance on his team.
First, you need to respect your people. Respect the people who work for you, respect your partners, respect all the people you interact with. To get the most out of your team, they have to respect you as the leader, and the way to get their respect is to treat them with respect. Engage with others, share ideas, and talk. That doesn't happen when you yell and criticize, but when you support them.
It's important to give feedback to people, and sometimes it is corrective feedback. But you won't get anywhere by demeaning the person. You have to have a relationship with the person, built on respect. That's the way to get people to be part of the team.
Second, you need to give people autonomy. People who have control over their lives are more effective than those who are just mindless automatons. Give your people the power to do their own job, to succeed, to fail, to learn, to get back up and try again. When people are thinking for themselves and generating ideas, that gives the team the energy and power it needs to really get where it needs to go.
Finally, don't be afraid of dissent. There should never be a meeting between a boss and an employee, where the employee feels the need to agree with everything the boss says. You have an obligation to dissent, to disagree, to tell people what you really think. If people have a disagreement about something it's important to get it out in the open and talk about it, because before everybody considers all the options, you can't know whose idea is best. Just because the person with decision-making power thinks one way doesn't make it the best way, and if someone has the courage to disagree and offer up an alternative, it might lead to a better decision.
Now, dissent and disagreement must be done with respect. People must be accountable for the way they act. But there should be no fear of bringing up different ideas and sharing honest feedback between any member of the team or any level of the organization.
Published: December 23, 2013
2016 Views