3 Apps to Encourage Employee Health and Wellness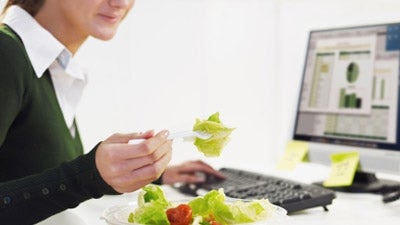 Employee wellness should be a top concern for every business leader today. Healthy employees are more productive and focused, use fewer sick days, and cost your business less in healthcare. (One study found that every dollar invested in healthcare intervention
yielded $6
in healthcare savings.) Suffice it to say your company benefits when your workforce is healthy.
As a leader, you may be wondering how to get your employees to make healthier choices without coming on too strong. The answer is to encourage, incentivize, and use technology.
Leading the Way to Better Health
Encourage: Business leaders have a responsibility to promote healthy habits in the workplace because the health of an employee not only affects that person, but also the quality of that employee's work. Start a company-wide weight loss program, a lunchtime walking club, or a smoking cessation group. Whatever you do, lead by example.
Incentivize: Offering incentives for employees who make healthy changes or meet certain goals is a great way to motivate and encourage your staff. Add a layer of competition to a program to make getting healthy more fun, and provide a support system for success. Just make sure that the rewards are in line with the healthy lifestyle you're promoting (e.g., a healthy lunch instead of a pizza party for the winners).
Use Technology: Employers should take advantage of the wide array of new tech tools that help promote a healthy lifestyle. Providing employees with wearable technology, such as the Fitbit or Nike+ FuelBand SE, is a great way to encourage them to increase their physical activity and track their progress. If these items are too expensive, look into free apps for company smartphones and work computers. There are countless options available that allow employees to monitor, track, and maintain control of their health and wellness.
Top 3 Apps for a Healthier Workforce
There are many options for tracking health and fitness. Here are three apps I recommend to promote healthier living in the workplace:
iTriage
iTriage offers a variety of healthcare features, including doctor searches, symptom checkers, a hospital locator, and an extensive database of medical symptoms, conditions, procedures, and drugs. iTriage is currently working on a customizable version for mid-sized employers to help users find in-network providers. Using this app in the workplace will help your employees take control of their health through education and find the right doctor or hospital if they need to seek treatment.
SleepBot
The SleepBot app tracks your sleep cycles, patterns, movements, and sounds (yes, even the sounds you make in your sleep!). You can input information into a diary, graph data, set alarms, and even customize reminders so you get to bed on time. Using this app will help employees maximize their sleep and wake up feeling more rested and refreshed, ready for a productive day at work.
DietBet
DietBet is a fun app that lets you "put your money where your mouth is" when it comes to setting and meeting weight loss goals. You can start a friendly competition among employees with a real payout for the winner at the end. Organizing into teams (rather than participating individually) will encourage collaboration and support, making the process of losing weight easier and more social. The interactive message board allows you to show the progress you've made and enables co-workers to cheer you on.
While you can't force better eating or a more active lifestyle on your employees, you can offer incentives for employees who make healthy changes. There are many ways to encourage healthy habits, but selecting apps to use as a team is one of the easiest and most affordable options available.
The health of your workforce greatly impacts the overall success and profitability of your organization, so as a leader, you should encourage your employees to eat right, exercise, and set healthy goals. You can even make it fun.
What are your favorite ways to promote health and wellness in the workplace?
Published: January 21, 2014
5195 Views