Why Aren't You Accepting Mobile Payments?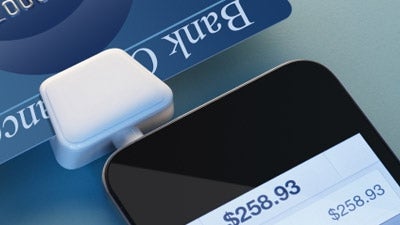 Just a few years ago, accepting mobile payments was a novelty that only a select few businesses provided to their customers. Today, businesses have a variety of
mobile payment providers to choose from
, making it an affordable and simple solution to implement in a changing marketplace.
As a small business owner, you no longer need expensive technology to take advantage of mobile payments. All you need is a smartphone, laptop, or tablet and a merchant account to start accepting mobile payments today.
Let's take a look at some of the benefits of accepting mobile payments from customers.
You're No Longer Limited by Location
One of the biggest advantages of accepting mobile payments is that you're
no longer limited to your store or office to complete transactions
. As long as you have a laptop, smartphone, or tablet with an Internet connection, you can use a variety of payment processors to accept credit cards, debit cards, and even PayPal transactions no matter where you're located.
Most mobile payment providers offer card readers so you can swipe customer credit and debit cards, or you can manually enter their payment information to complete the transaction. You can even email a copy of their receipt directly to their inbox.
Keep a Professional Appearance
Say you've met with a client or customer outside of your office, made your pitch, and they'd like to make a payment and get started right away. Problem is, you don't have a way to accept their money, and you've potentially lost a new customer.
By accepting mobile payments, you can avoid these situations altogether. Mobile payments let you complete transactions whenever you are outside of the store or office, helping you avoid situations where time is a factor. Keep up your professional appearance by being prepared to bring in new business no matter where you are. You never know when a new business opportunity will arise.
Choose a Mobile Payment Provider
Don't forget to compare the features and benefits of each mobile payment provider before making a choice. Options include Intuit, PayPal Here, Dwolla, Square, and Clover Pay. Some providers even offer a free magnetic strip card reader when you sign up for their service, although you'll most likely need to pay if you want to accept Chip and PIN cards. Check with your provider to see what they offer.
Accepting mobile payments can lead to new business opportunities and require little up-front cost for businesses to implement. If you find yourself on the go and needing to accept a payment, take a look at the variety of mobile payment providers that exist today. Your customers will thank you.
Published: December 19, 2013
2118 Views