Are Mobile Payments Right for Your Business?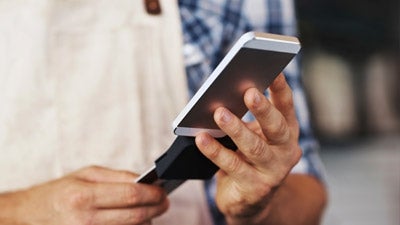 Like most small business owners, you're willing to try anything that will help you increase sales and help make your company a success. You may have tried new marketing tactics, networking, and even advertising. But have you considered mobile payments as a tool to help grow your business?
We may still be in the early phase as far as mobile payment industry is concerned, but that's quickly changing, even as we speak. By 2017, it's a market that is expected to reach $58 billion in transactions. But don't wait until then to determine if it's a good fit for you. Start by asking yourself the right questions.
1. Do I Need to Accept Payments on the Go?
If you occasionally (or frequently) take your business mobile, such as selling food from a food truck or selling your products at a farmer's market, you must accept payments on the go. What form of payment do you accept? Most likely just cash, as merchant processing machines are unwieldy and hard to take with you.
But mobile payment processors are much easier to transport, and can fit in your pocket. Just affix your card swiper to your phone or tablet, and you can start accepting credit cards.
2. Am I Overpaying for my Merchant Processing Equipment?
This answer depends on the deal you negotiated with your credit card processing company, but many times you pay a heavy up-front fee or a monthly rental fee to cover the cost of your card swiping equipment. There's really no reason you need the clunky machine in your store when a mobile payment card swiper works just as well for less cost.
3. Does My Existing Card Processor Offer a Mobile Option?
Some do, and some don't. Most likely all will in the very near future. But for now, if your existing service provider offers mobile, there's no reason not to try it out. If your provider does not offer mobile, you'll have to establish service with one of the following mobile payment providers, then link the account to your accounting and banking systems.
Square: Square was the first mobile payment provider in the US. Its tiny card swiper attaches to your phone, and is free. You pay 2.75% of each transaction.
Intuit's GoPayment: Integrates nicely with Intuit's accounting software. GoPayment's monthly fee is $12.95, and transaction rate is 1.75%.
PayPal Here: Two options: accept any debit or credit cards in person, or use PayPal Here to let people pay from their PayPal accounts. Its fee is 2.7%.
If the answers to these questions lead you to still entertain the idea of mobile payments, give them a try. There's really no barrier to entry, and you might find that expanding your payment options increases sale (since fewer and fewer people carry cash these days), while improving your average transaction amount. While you are charged a percent of each transaction (as is the case with any credit card transaction, mobile or otherwise), if your sales boost as a result, it's well worth that price.
Published: September 11, 2014
2515 Views