If you own a small business, you'll be very familiar with the process of sending out invoices. Naturally, you'll want to get paid on time and maintain good relationships with your customers but achieving this with inaccurate and unprofessional invoices is a tricky task. So, how do you ensure that your invoices are as accurate as possible?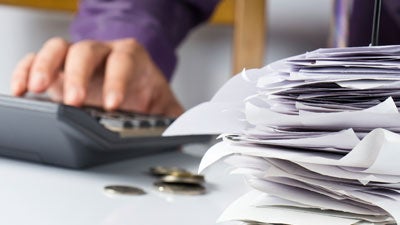 Why Is Invoice Accuracy So Important?
Firstly, before we discuss how to improve invoice accuracy, let's look at why invoice accuracy is so crucial for your business. As an official document that you send to your customers, your invoice should represent your company well. Obvious errors and typos will make your invoices look rushed and unprofessional, which is certainly not the image you want to portray to new customers! High-quality invoices will help to build the reputation of your small business, so make the most of this by paying attention to the details.
Another reason why invoice accuracy is important is that it helps you to get paid on time. Errors in your invoices lead to queries from customers, which can delay your payments. This is especially unfortunate for very small businesses that rely on these payments to get by! Correcting and resending these invoices also costs a lot of time and resources, which only worsens the problem. Therefore, if you want to avoid delayed payments and build a good reputation for your company, here are 3 easy changes that can improve your invoice accuracy.
Step 1: Make Use of Invoice Templates
Nowadays, there are so many online tools available to help business owners. One of the best things you can do for your business is to use invoice software if you need some help with the financial side of things. For example, with FreshBooks, you can download an invoice template for free! These free templates can be used to create professional-looking invoices in Word, PDF, Excel, Google Docs and more, and they're customisable to allow you to add your own company details.
If you'd like more customisation options so you can really show off your company's personality, a FreshBooks account will give you access to this and so much more. It's easy to clearly list all the necessary invoice details with the help of a FreshBooks template, meaning that you can download, customise and send invoices much faster than before and, most importantly, receive your payments as quickly as possible.
Another bonus of using these invoice templates from FreshBooks is that you can spend less time struggling with invoice creation and focus more on other parts of your business. It's no secret that accounting can be dull, but with the help of FreshBooks, you can reduce this burden and concentrate on what you're really passionate about!
Step 2: Focus on the Details
Errors occur when we don't take the time to check over each detail. The passage of time can also make these details fuzzier if there isn't enough recorded data to look back on. Therefore it's important to accurately track data like hours worked and cost breakdowns so that this information can be used to create error-free invoices. Fortunately, accounting software companies like FreshBooks offer time tracking tools to help you better organise your business and collect data for invoices, making it easier to avoid costly mistakes.
Another top tip is to always include an itemised list of costs in your invoices to make the overall sum easier to understand for your customers. As well as helping you to keep track of costs and get your figures right, this will reduce any confusion on the customer's side and make it less likely that they will dispute the costs and delay payment. This makes itemisation a win-win solution!
Step 3: Communicate
Clear communication is often the key to success, and this is no different when it comes to invoices. Your customers won't appreciate nasty surprises in the form of hidden costs and unexpected charges, so to avoid disputes about costs, you should ensure that you always communicate properly with your customers. Your relationship with your customers will be much better if you're on the same page about total costs on invoices.
Similarly, communication is very important within your business. If you have employees in your small business, you should make sure that everyone has the right information, so no invoice mistakes are made. Confusion within your business certainly won't give the right impression to new customers!
Final Thoughts: Improving Your Invoice Accuracy
Accurate invoices are essential for making sure you get paid on time and for presenting a professional image to customers. By communicating well with customers and employees and keeping track of the details, you can always send out accurate and clear invoices. This is fantastic for both your finances and your customers' experience with your company – with accurate invoices, everyone benefits!
Of course, if you'd like to focus on other areas of your business rather than accounting, an amazing option for you would be to get help from FreshBooks to make accounting easier. With a wide range of accounting tools to choose from, including free invoice templates and time tracking, FreshBooks can ease some of your accounting worries and help you get paid as quickly as possible. Download an invoice template today!